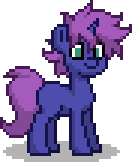 Brass Beau
Howdy from Shimmer Pope
@Latecomer
"Simple" may have been the wrong term. "Predictable" might be more appropriate. When presented with a problem, an observer should be able to predict how a character would try to solve it. An observer should also be able to predict what approach is mostly likely to solve the problem. It's possible to predict Spike's reactions most of the time, but the outcome is less so. But that just may be my brain refusing to stop being analytical.
damn English classes
There's also the whole "getting shit on" debate which I'm ill-equipped to go into. I'd like to analyze that situation more to present a more objective statement. I'd like to believe there's a fair number of episodes portraying Spike positively.
As for the last point, it was inferred in the final episode that Spike still holds affection for Rarity.