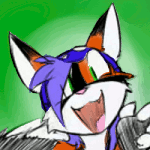 Wesley Foxx
The Fluffiest
I didn't watch much TV at all. I still don't, catching it on youtube. The only stuff on TV I looked forward to in the last couple years was Venture Brothers.

As far as fandoms, I was a furry, and then also a Homestuck.

Cultural osmosis, some bronies on the Homestuck forums and C!R's "Reviews are Magic" episodes got me familiar with the show enough that when S3 was going to start, I decided to start watching. I saw a small handful of episodes prior (starting with Lesson Zero, natch.) then all of S3 as it was released.