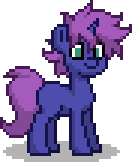 Brass Beau
Howdy from Shimmer Pope
As for having her walk away from her dreams simply because she'd have to use technology where an average pegasus wouldn't — seems like that would also be a not-so-great message for people with disabilities.
It's more of a "with technology I can do what others can but what can only
I
do?" kind of message. The possibility is still there and she can take that path but she's deciding that she
wants
to be different in a way that goes beyond her physical limitations. The two could even be tied together. "I built a jet pack so I can fly as fast as Rainbow Dash and then I kept making stuff." The kid calculated how to sling herself into the stratosphere. She's pretty damn smart. And since we know wheelchairs and artificial limbs are a thing, maybe she could learn some anatomy and make new technology for other limited individuals.