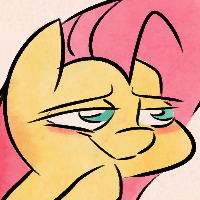 Posts: 5543
Miss Shy
You're going to love me.
Previously on My Little Pony…
Welcome to the 7th part of the ride that never seems to end.
This thread was created on October 10th, the anniversary of Friendship is Magic.
My name is Miss Shy, and I will be your host for the Season 7 thread.
If you're here, then you are hopefully caught up and have seen every episode of Season 6. If not, then
click here to go to a post that contains a link to every episode of Season 6.
Season 7 has been confirmed to be released sometime in Spring of 2017.
Episodes of My Little Pony: Friendship is Magic will air every Saturday morning on The Hub Discovery Family at 11:30 AM EST/10:30 AM CST/8:30 AM PST.
And here's some things that will be important later.
Streams
Haxmega
Bronystate
Brony Network
Brony TV
Otaku Ascended
Equestria TV
Spazz
World of Equestria
SEASON 7 NEWS
Treehouse in Canada is going to be airing two new episodes a week up to episode 13. One on Saturday, one on Sunday at around 11:15 EST. Make sure to catch the streams if you wanna spoil yourself.
Brony Network
Otaku Brawler
Episode Synopses
Celestial Advice
– Twilight Sparkle agonizes over Starlight Glimmer's future and receives some much-needed advice from her very own mentor – Princess Celestia.
All Bottled Up
– While the Mane 6 are on a friendship retreat, Starlight Glimmer loses Twilight Sparkle's friendship map. Afraid her anger might get out of control, Starlight Glimmer casts a calming spell while the ponies search for the lost map.
A Flurry of Emotions
– After planning a jam-packed day, Twilight Sparkle also agrees to babysit her niece, Flurry Heart. But with Flurry Heart along for the ride, Twilight Sparkle struggles to maintain her title as "The Best Aunt Ever" while keeping Flurry Heart out of trouble!
Rock Solid Friendship
– When Pinkie Pie learns that Maud might move to Ponyville, she does everything she can to make sure her sister sees that it has more to offer than just rocks.
Fluttershy Leans In
– Fluttershy is determined to make her career dreams come true with the help of some very special ponies. But when her true vision is not being executed properly, she must find a way to stand up and fight for her ideas.
Forever Filly
– When Rarity surprises Sweetie Belle with a special day together filled with all of her favorite activities, she quickly learns that her little sister is no longer the little foal she used to be.
Parental Glideance
– When Rainbow Dash's parents discover she's a Wonderbolt, they show up at every event to cheer her on. However, their unabashed enthusiasm proves to be rather embarrassing and pushes Rainbow Dash to the brink.
Hard to Say Anything
– When the Cutie Mark Crusaders discover that Big Mac has his first crush, they vow to help him win Sugar Belle's heart before Feather Bangs does it first.
Honest Apple
– When Rarity asks Applejack to be a judge in a fashion show, Applejack learns that an opinion, however honest, can still be hurtful.
A Royal Problem
– Starlight Glimmer is sent to solve a friendship problem between Princess Celestia and Princess Luna; when it's clear that the problem is that the royal sisters don't appreciate one another, Starlight impulsively switches their cutie marks!
Not Asking for Trouble
– Pinkie Pie visits Prince Rutherford and the Yaks. While there an avalanche falls on the entire rustic village of Yakyakistan. Pinkie Pie suggests tht she go to get the other ponies to come help but the proud Prince and Yaks refuse.
Discordant Harmony
– When Discord invites Fluttershy to his realm for tea, he worries she won't be comfortable there and begins to change it and himself with disastrous results.
The Perfect Pear
– The Apple Siblings learn about their parent's love story and find out that they're half Pear.
Fame and Misfortune
– Twilight Sparkle's publishing of the friendship journal has unintended consequences when ponies start to argue over who wrote the best lessons.
Triple Threat
– Spike accidentally invites Ember and Thorax to Ponyville on the same day. He's sure the two new leaders are not going to get along so he does all he can to keep them apart and cover the fact that the other is there.
Campfire Tales
– When their sister camping trip is ruined by Fly-ders, Applejack, Rarity, and Rainbow Dash tell Sweetie Belle, Apple Bloom, and Scootaloo the stories of their favorite legends; inspired by the tales, the girls make the most out of their new situation.
To Change a Changeling
– Starlight Glimmer and Trixie try to get Thorax's brother Pharynx to accept the new way by sharing love and transforming so he doesn't undermine Thorax's leadership, and that the hive will ultimately accept him.
Daring Done
– When Rainbow Dash's favorite author, A.K. Yearling, announces her retirement, Dash convinces Pinkie Pie to go on a quest to find out if the book on Daring Do really will be closed forever.
It Isn't the Mane Thing About You
– When Rarity's shampoo is accidentally switched with Zecora's magical remover potion, she does everything she can to fix her devastated mane in time for an upcoming photo shoot.
A Health of Information
– While helping Fluttershy gather supplies, Zecora comes down with a terrible disease called Swamp Fever; even though a cure has not been discovered, Fluttershy makes it her mission to heal Zecora no matter what it takes.
Marks and Recreation – Wanting to help as many blank flanks as possible, the CMCs start a Cutie Mark Day Camp, but are surprised when one of their campers doesn't want a cutie mark.
Once Upon a Zeppelin – Twilight is torn when she discovers the cruise she and her family are on is a themed vacation experience in which ponies have paid for the privilege of spending time with her, and she must please both her family and the cruise attendees.
Secrets and Pies – When Pinkie Pie thinks she sees Rainbow Dash throw away one of her pies, she suspects the worst – that Rainbow Dash secretly hates her pies; Pinkie Pie attempts to catch Rainbow Dash in her web of lies.
Uncommon Bond – When Starlight gets a visit from Sunburst, she discovers that he has tons in common with her friends and starts to wonder if he still has anything in common with her.
Shadow Play Part I – When Sunburst discovers the lost journal of Starswirl the Bearded, Twilight becomes obsessed with saving her magical idol from a thousand-year-old prison.
Shadow Play Part II – With Starswirl and the other Pillars of Old Equestria back from limbo (where they've been trapped for a thousand years), Twilight and her friends must work together to defeat the Pony of Shadows.
Episode Links
Celestial Advice
All Bottled Up
A Flurry of Emotions
Rock Solid Friendship
Fluttershy Leans In
Forever Filly
Parental Glideance
Hard to Say Anything
Honest Apple
A Royal Problem
Not Asking for Trouble
Discordant Harmony
The Perfect Pear
Fame and Misfortune
Triple Threat
Campfire Tales
To Change a Changeling
Daring Done
It Isn't the Mane Thing About You
A Health of Information
If the links do not work, please let me know so I can find a proper DailyMotion replacement.
As for now, please take these direct links.
Hard to Say Anything
Honest Apple
A Royal Problem
Not Asking for Trouble
Discordant Harmony
The Perfect Pear
(NOTE, CANADIAN RELEASES WILL STILL BE SPOILERED UNTIL THE US RELEASE)
Have fun, please don't break anything. Or anyone.
___
While I still have you here, I would like to remind you to please follow the rules at all times.
Thing that are generally discussed here:
– Episodes of Season 7
– Reactions
– Characters
– Animation
– Analysis
– Theories
– Speculation
I request that you refrain from the following:
– Using external factors to talk. That includes writers' opinion, writers' track record, fandom opinion, ratings, etc. This thread is for you to express your opinion, what you think about the episode and why you think so based on what happens in the episode.
– Policing opinions ("Stop thinking that.") We are here to discuss our opinions in a civilized manner, do not silence another just because you disagree. Speaking of…
– "You're wrong". "No, you're wrong". kind of talk. Be a reasonable individual, and use episode/character analysis for your rebuttal.
– Insulting others for their opinions. People are going to disagree with you or not see something the way that you do. And that is ok. Feel free to argue and defend your viewpoint, but do not berate others for not seeing things exactly your way.
– Bringing your baggage with you. Drama is going to happen. Episodes, moments, or characters can be so polarizing that heated debates and yelling can seem inevitable. While we can't exactly prevent that, there are things we can control. You are not going to get along with everyone, and that's fine, but this is episode discussion, not a soap opera. If you have some sort of issue with another user, do not bring that attitude here and disrupt the flow of conversation. Take it up in PMs or the mods if necessary.
– Anything that isn't episode discussion. We get it, discussion can take us from one topic to the next, but we don't want to constantly derail conversation.