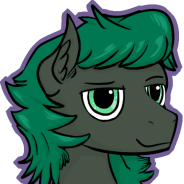 Minus
Downvote Addict
I like to think Rainbow Dash picked her crush specifically for that moment described. And that it literally happened the other day. As in, she'd change her answer every other week, and doesn't quite get what a crush really is.

Rarity's skill in talking her way out of things shows here. She avoided the question entirely. But talking about how a dog/dragon fancies you, with some implication that you're okay with that… Maybe she's not so skilled with her words afterall.

That Pinkie one though! Trust her to catch me off guard and surprise me. I love how terrible this ship feels. Kinda emphasizes that it is only a crush. I wanna see her ask shining out on a date, and I want to see how terribly it goes!

Flutters and AJ are a bit dull with their answers.