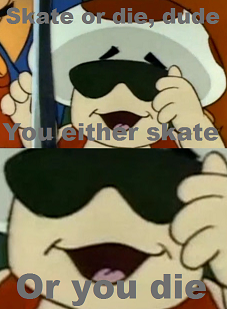 Joseph Raszagal
Emily Brickenbrackle III
@Communist Starlight
I happen to think so too x3 . It's just what comes immediately to mind whenever I write her. She might also be a bit more sarcastic, but that's probably just a little of myself leaking in, you know? I'm a sarcastic kind of guy, so whenever I write something stupid for myself to say, I feel like I kind of need Medi to say something equally sarcastic that'll put me in my place.  
@BigBuggyBastage
Oh no
, my friend, I've been without psychiatric help for years now; well before the current crisis. I understand your plight and I do not recommend it. I'm asking you, right now, as a random friend on the interbuttz, to continue seeking help so long as you feel you need it. It makes a helluva difference, yo. If you have the insurance, the help necessary, or even just somebody who loves you that's willing to foot the bill,
get that help.
I had money… you know… at one point in time, but I ran out of that and therefore ran out of help. It's kind of funny how things work in America sometimes (shut up, Starlight; now's not the time to brag about Communism) xD . ||I laugh because otherwise I would cry, and there's so few tears left to shed in that sector sometimes. ||I think I may have mentioned it before, but I'm supposed to be medicated with quetiapine, but the cost for the prescription was so outrageous that I eventually just started going without. My therapist, whom at the time I could still afford, really hated the fact that I couldn't afford the meds he prescribed me (and even tried to worm some ways around the cost with legally questionable methods… but still failed), but there just wasn't much that could be done.  
So now I just self-medicate with booze, weed, and the high-hopes that "all's well that ends well". It doesn't really work, but hey, I'm still here. My anxiety is still a mile high and I still have panic attacks, but all things considered, I think I'm doing Dr. Doug pretty proud by not being dead yet x3 .  
Have I mentioned yet that I'm drinking right now? I feel like I'm saying a lot that I shouldn't. Somebody shut me up with something cute and/or funny. I feel like a stand-up comic on the floor dying in front of a booing audience right now. Help me, I can hear the booing right now and I don't think I can make the audience shut up xD .