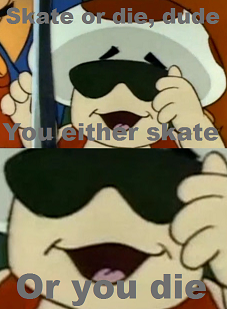 Joseph Raszagal
Emily Brickenbrackle III
+Chapter Four: The Part That Should be Emotional, but You Know Better Than That, Don't You?+

*[Medi-Bat lays unconscious on the the ship's bridge floor, the mystical energies of her nerdy quasi-math spell steadily fading from the air around her. She doesn't appear to be breathing and she certainly isn't moving.]*

*[CALL_TO_MOTHER&%$@ING_ACTION.EXE!]*

*[I rush to my little bat buddy's side as quick as can be, ignoring the fact that I just rhymed. I pick her up as carefully as possible and cradle her in my palms.]*

Me: "Bat-Bro, you wake up right this instant! Look at what you just did; you found the way home for us! There is no way I'm letting you die on me now!"

*[Extremely sappy emotional music begins playing in the background, kind of like what played during Spock's funeral in Star Trek II]*

Me: *[I'm crying]* "C'mon, Medi, you know I can't do this without my batty little buddy. W-we... we're a team. I'm the dumb one who writes the words, but you're the cuteness that keeps them reading. You're... y-you're the cuteness that keeps me going..."

*[Emotional music swells; the violins move downstage and the brass section wakes up with a sudden surge of sound]*

*[Just as the trumpets blare, an idea comes to me]*

Me: "The cuteness..."

*[You got us this far, Medi-Bat. Now it's time for my crazy idea. Taking a deep breath and humming the words in my head, I prepare to sing something very silly, but _very powerful_.]*

Me: _"I'm a little Med-Bat, small and cute!_
_I fits in your palm and I fits in your boot!_
_Give me some plums and boop my snoot!_
_I'm a little Med-Bat, doot doot doot!"_

*[The effect is instantaneous]*

*[As I'd hoped, she pops back up like nothing happened. Anti-climactic, I know, but I don't care. All I care about is the fact that she's okay.]*

"_EEEEEEEEEEEEEEEEEEEEEEEEEEEEEEEEEEEEEEEEEEEEEEEEEEEEEEEEEEEEEE!_"

Me: "Calm down."

"_EEEEEEEEEEEEEEEEEEEEEEEEEEEEEEEEEEEEEEEEEEEEEEEEEEEEEEEEEEEEEEEEEEEEEEEEEEEEEEEEEEEEEEEEEEEEEEEEEEEEEEEEEEEEEEEEEEEEEEEEEEEEEE!_"

Me: "Calm down!"

"_EEEEEEEEEEEEEEEEEEEEEEEEEEEEEEEEEEEEEEEEEEEEEEEEEEEEEEEEEEEEEEEEEEEEEEEEEEEEEEEEEEEEEEEEEEEEEEEEEEEEEEEEEEEEEEEEEEEEEEEEEEEEEEEEEEEEEEEEEEEEEEEEEEEEEEEEEEEEEEEEEEEEEEEEEEEEEEEEEEEEEEEEEEEEEEEEEEEEEEEEEEEEEEEEEEEEEEEEEEEEEEEEEEEEEEEEEEEEEEEEEEEEEEEEEEEEEEEEEEEEEEEEEEEEEEEEEEEEEEEEEEEE!_"

Me: "FOR THE LOVE OF ALL THAT IS HOLY, CALM THYSELF!"

"Ohmygosh! You sang the song! You sang the song! Even though you said you'd never-ever in a million-billion years sing the song!"

Me: *[Tsun-tsun, dere-dere]* "It's for emergency purposes only!"

"Is not."

Me: "Is too, dammit! _It'sforemergencypurposesonlyandi'mneversingingitagainsogetoffmyback!_"

*[Medi-Bat flutters up and lands on my head, doing her best to give my noggin a hug with all four of her hooves. So sue me, it'd be enough to make a rampaging god calm down.]*

*[She keeps the hug going for a few seconds, then jumps down to my shoulder. She joins me in staring out the bridge's main screen at the hole in reality that she opened.]*

"It really worked, Master. There it is... _home_."

Me: "Ya done good, Medi-Bat. Ya done real good."

"So, what do we do now? Just go on through?"

Me: *[I shrug]* "We'll still have to punch through the 4th Wall, but yeah, that's basically the plan. Why, what's up?"

"Will... will we be the same once we're through, Master?"

[Oh]

"Will we remember all of this? We came from an RP, then we hit this computer and suddenly we could talk as much as we wanted. What happens when we're back home, back in the comments?"