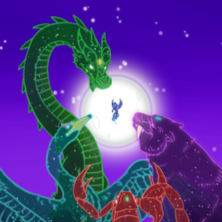 Cosmas-the-Explorer
Explorer in Training
"Please Lyra, use your… science to stop misinformation." Bon Bon pleaded to her friend, for once, for science.
"Yes, it's my duty to prove Celestia wrong"
One day later
Knock
"As you can see, hooves are hard, not flimsy and soft-"
"Liar!" Lyra proclaimed "How come are minds trick us into dreaming of soft hooves like you say! Do you think us delusional!"
"As an anthropologist, I've done years of research comparing quadruped and human hands!"
"I figured strength in all creatures, human or us inferior creatures, is softness. It is the softness that makes us embrace and makes us create!"
Celestia was touched my Lyra's speech. But nonetheless, "Bah hearing is believing. Watch by hard tap. "
Soft noise
"For once, Lyra, your in your face attitude made a good distraction."
Bon Bon said as she turned off the stock sound.
"I thought you wanted me for my science!"