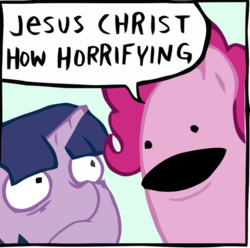 The Frowning Pony
Administrator
13 blinks per minute
I doubt many people at all know about this, even though it's listed in
Tags/Aliases
, but we have a list of shorthand aliases for things that are commonly tagged and over 5 characters. Currently:  
m6 - mane six (implies all mane six characters)
ts - twilight sparkle
pt - princess twilight (implies Twilight Sparkle)
rd - rainbow dash
ry - rarity
aj - applejack
fs - fluttershy
pp - pinkie pie
sb - sweetie belle
ab - apple bloom
sl - scootaloo
cmc - cutie mark crusaders (implies the three CMC)
tx - trixie
tia - princess celestia
luna - princess luna
sombra - king sombra
sf - spitfire
bb - braeburn
bs - babs seed
sn - soarin'
qc - queen chrysalis
cgt - colgate (implies Minuette)
bon - bon bon (inplies Sweetie Drops)
dc - discord
ss - silver spoon
dt - diamond tiara
bp - berry punch
dj - vinyl scratch (implies DJ-Pon3)
nmm - nightmare moon
pcd - princess cadance
sa - shining armor
rg - royal guard
bm - big macintosh
ld - lightning dust
dh - derpy hooves
za - zecora
mm - mayor mare
ct - carrot top (implies Golden Harvest)
dw - doctor whooves (implies Time Turner)
oct - octavia (implies Octavia Melody)
sus -sunset shimmer
pdp - pinkamena diane pie (implies Pinkie Pie)
owol - owlowiscious
opal - opalescence
 
So there that is for anyone needing it. And of course, if anyone has suggestions, and not just for characters, do speak up.