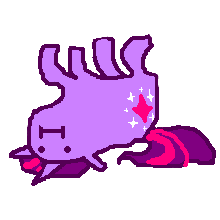 The Smiling Pony
Somehow Omnipresent?
Putting in just that URL should work. If it doesn't, it means Twitter is lying about what format it's serving, which is a common thing it does. Unsurprisingly, it's actually an mp4 video file,
https://video.twimg.com/tweet_video/D5AMs9DXoAIjbZm.mp4
You'll have to find a way to convert that into a gif or webm, like
this
, and give a thanks to twitter for lying.