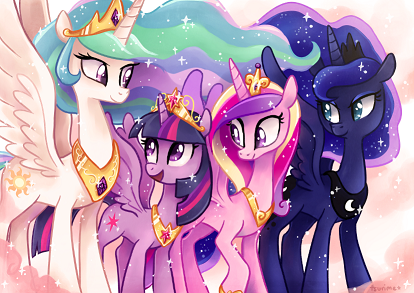 Mystic Crown
I'm looking to roleplay as either of the regal sisters Princess and Luna, or as Twilight Sparkle as I actually have a fair bit of experience roleplaying as them. Especially Celestia, followed by Luna My thoughts being a more romantic roleplay, where I will list the possible ships that I'd be willing to try below. I also have an OC named Mystic Crown, which is my username as well, who is a unicorn… Though I honestly don't have her fully figured out apart from being a unicorn and most of her personality.

I have a strong preference for semi-lit to literate, requesting for at least three to five sentences, while appreciating those who put more thought and detail into their replies. As such tends to keep me more interested and invested in a roleplay. Also, please no over powered or alicorn OCs. I'm not sure yet my schedule, though I often have trouble sleeping.

These are the ships that I'm willing to roleplay in, as long as let me know.
——————————————————

Twiluna — (Twilight x Luna)
CeleLuna — (Celestia x Luna)
Guardlestia – (Celestia x Guard)
Guardluna – (Luna x Guard)
Rarilight — (Rarity x Twilight)
TwiDash — (Twilight x Rainbow Dash)
Twinkie — (Twilight x Pinkie Pie)
TwiShy — (Twilight x Fluttershy)
TwiJack — (Twilight x Applejack)
Twadence — (Twlight x Cadence)
TwiArmor — (Twilight x Shining Armor)

Possible choices, but will definitely need to discuss, more then the others.
Celestibra — (Celestia x Sombra)
Lumbra — (Luna x Sombra)
Twibra — (Twilight x Sombra)
TwiMoon – (Twilight x Nightmare Moon)
Moonlestia — (Nightmare Moon x Celestia)

I don't have any plots or scenarios figured out myself at the moment but I am open for ideas.

Edit: I will _not_ do ERP or NSFW roleplays involving foalcon.