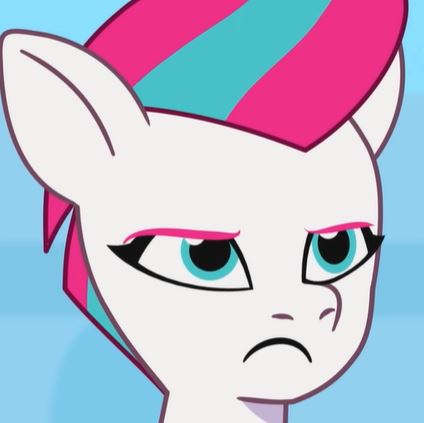 Ring Team
So I started to watch the season 9 and I finished watching The beginning of the end. I said I wanted to start watching it next week, but my curiosity was too strong for my body to handle.

So, Celestia and Luna want to retire and to let the throne of Equestria to Twilight Sparkle. She starts panicking because of that big task. In the meantime, some new villain invokes Cozy Glow, Tirek, Chrysalis and Sombra for a new plan to conquer Equestria, but Sombra decides to do it on his own. However, he eventually is defeated by the Mane 6 for the power of friendship and determination.

Twilight and their friends don't need the Elements of Harmony. They can fix problems on their own, without needing some amulet or scepter. Discord was right the whole time.

You know what? *That's actually freakin' interesting!* We imagined at some point Twilight on Celestia's throne and being the princess of Equestria doing some princess duties. I've always imagined that since Magical Mystery Cure and I wondered if we were gonna see something like that in season 4. Unfortunately we didn't. This episode would make more sense in season 4. However, the pacing was so well done that I was intrigued by absolutely everything. I was always "what's gonna happen in the next scene?". I wanted to see more.

The only two problems I had with the episode is that Pinkie Pie still has her moments where she screams and makes forced bad jokes, but this is something I would expect, especially after season 3, 4 and 6. The other problem is that, while I think the new villain has an ambitious personality, his art design is kinda boring. It's just saturated blue and saturated red. If I was designing him, I'd draw the same type of character, but a really desaturated green (to the point where he's almost grey) and some magenta saturated details, just for complementary colors (magenta and green).

But yeah, *I think that episode was really good!* I didn't expect that! I didn't even mind that Chrysalis lacked that distorted voice from A Canterlot Wedding. And Discord for the first time was actually funny with some ridiculous jokes, some twists, etc. The episode was so good that I tolerated Starlight's presence.

I'm assuming one of the last episodes will be kinda like Avengers: Endgame or something like that, like a big huge ultimate battle. That's what I imagine after watching all these villains reunited. And I also assume some of the episodes in season 9 will be really cool.

But yeah! That's a pretty good start! I think it was the first time since Princess Twilight Sparkle that I truly enjoyed the opening of a MLP season, and that was an episode from 2013.