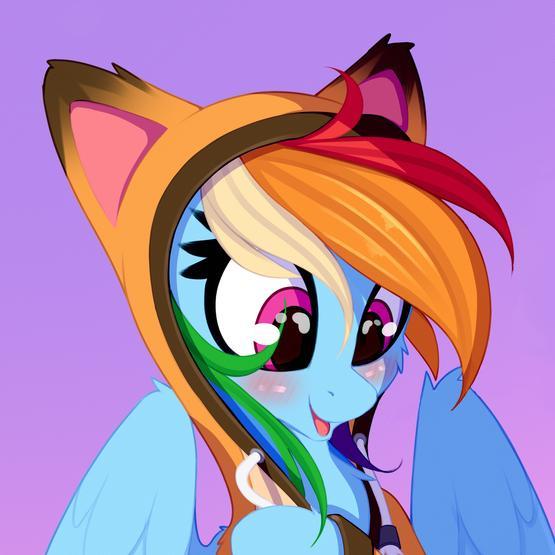 Rainbow Dash
Maybe a little bit wolfy
AI Imagery Policy
Go here for an unofficial poll and for deeper discussion on the topic.
For clarity, only the ai generated tag is hidden by the default filter, not ai assisted.
Preamble
As machine learning generated image technology matured, we had hoped its use would transition from a novelty to another element in creatives' toolsets. Unfortunately, while we've definitely seen many artists use the new tools, as well as new creators use them to great effect to create new, refined works, we've also experienced an uncontained proliferation of "press button for image" type content, much of it of objectively low quality when looking past a small thumbnail.
This policy is aimed at addressing this issue's effect on this site. The very short of it is strict upload limitations for the number of such images allowed to be uploaded (2 per user per day), combined with low quality images being deleted. For the sake of brevity, we're also changing terms from "machine learning" to simply "AI".
. Images of exceptionally low quality, particularly those uploaded as spam or where the uploader admitted the quality was low, may be retroactively deleted, but the majority of existing content should not be affected.
Additionally, images that are fully AI generated are Hidden in all default filters (except Maximum Spoilers and Legacy), and filtered from Trending Images.
Please note that this is only our initial policy, and we are open to community feedback and suggestions, and these policies may change if we truly missed something, or if they just don't work in practice.
---
Basics
Tags
ai assisted - Images where AI was used, but there there is a significant amount of manual editing (through extensive in/outpainting and/or use of external programs), such that the AI image only served as a base (ie. "photobash" with AI).

Also used for images where a minor portion of the image was edited by AI, such as detailing part of an image (like a lace pattern), adding a background or background element (where these are clear but not the focus of the image), finishing (coloring, shading, or detailing) a fine sketch / lineart (i.e where the base image was made by an artist, is more detailed than a crude stick figure drawing, and its attributes notable retained), or adding AI-made voices to videos.

This does not apply to an artist using AI to upscale their own images, add interpolation frames to their animation, or adding out of focus / procedural as background filler.

Remember to use

artist:

tags when uploading these images.
ai generated - Images where a significant portion, or the whole, of the image was created by an AI. This includes multiple generation passes, low numbers of simple in- and outpainting, minor edits to an AI-made image (for basic fixes), or img2img-like "recreations" of a crude sketches, photo, or other prior image where the base image is almost completely lost.

Images with this tag should include prompter: and generator: tags

Additionally, images with this tag are Hidden in all default filters (except Maximum Spoilers and Legacy), and filtered from Trending Images.
ai content - Used for ai generated and ai assisted content, and implied by these tags. This is to denote an AI system had a non-trivial contribution to the final image.
prompter: - specifies the prompter of an ai generated image. If none is provided, staff may add one.
generator: - name of the generator used in an ai generated image. e.g. NovelAI, Purplesmart.AI, Dall-E, etc. If a raw/local Stable Diffusion setup was used, use the name of the model/checkpoint.
---
Rules
Rule #1

Do not upload edits without either permission or a reasonable expectation the artist is okay with them; by default, before considering their past art/behavior/statements/etc., it's expected artists aren't okay with:

Changes to their signature or watermarks
Major thematic changes (such as fetishes, characters, races, or political stances)
Use of AI to alter the image (changing elements, "finishing" sketches, decensoring, or upscaling)
Always tag "edit" to distinguish from the original.

Do not use AI to emulate an artist's personal style without clear approval from the artist. This does not apply to highly commercial or culturally significant styles (e.g. from renown dead painters, or popular TV shows). Unintentional "style copying" due to model biases may be deleted after review.
Rule #3

Do not upload AI generated images of poor quality, such as with impossible geometry or malformed anatomy that hinder the image's purpose, or anything containing aberrant "ghost" signatures; for instance, a pinup image should not include deformed hands, while a comedic image of "An alien pony climbing a tree" may include bizarre elements.
Rule #6

Avoid uploading multiple similar images not made by an artist within an hour; this primarily affects unedited images from paper-doll / pony creator type generators, media and game screenshots with no qualitative difference between them, or AI Generated images with little or no essential variation.
Avoid uploading more than two "AI Generated" images per day. Refer to the Tag Guidelines for information on where this tag applies.
FAQ Clarifications
Rule 1: I want to post an edit of an artist's work

Please check the artist's tag first; some artists expressly forbid edits of their work and your edit may be deleted. If you have permission from the artist, note that in the upload's description.

Otherwise, keep in mind the list of edit types we automatically assume are against most artists' wishes; if you believe an artist whose work you wish to edit and post would be OK with such edits, include a link or other evidence of that in the upload's description. This also applies to using AI to emulate an artist's unique personal art style in general; if you have evidence they're OK with their style being copied through AI, present it.
Rule 3: My AI Generated image was deleted for low quality, but it looked great?

It's likely your image included bad anatomy (additional limbs, impossible bending, clothes merging into flesh, etc.) or artifacts (floating elements, fake text). In general we treat AI Generated images with little or no human editing in a similar way to screencaps: we only keep the best. We recommend you curate your generations and select the finest if you wish to share on the site. We also recommend looking into how to edit and improve these images manually through edits in external apps, collaging, etc., as well as drawing base sketches to work from, to make such images "truly yours" and not rely solely on AI.
Rule 6: What are "similar images"?

This refers to screencaps of shows or games, edits, character creators, and AI generated images. Alternative versions of an artist's original work, such as versions with different clothing, are exempt.

Screenshots of shows: alternative crops of the same screencap, or minute differences between screencaps that are just a few frames apart.
Paper-doll/kisekae type games and character creator tools: screencaps or exports of the results with no significant editing variation
AI Generated images: images that follow the same prompt / theme, even if several details are different.
Rule 6: AI Generated upload restrictions

This restriction only applies to AI Generated images without significant amounts of human editing. If you upload more than two AI Generated images within a 24 hour period, staff may delete some of them at their own discretion. Repeatedly uploading too many AI Generated images after being warned, or trying to circumvent the two per 24 hours limit, is grounds for being banned.
Difference between AI Generated and AI Assisted

These tags are exclusive to each other. AI Generated images have been created by an AI / Machine Learning Algorithm and have no editing, or only minor editing, such as fixing small errors like removing extra nostrils.
AI Assisted images use AI as a part of the creative process combined with significant human artistic input. This can mean things like using AI models to apply colours to hand-drawn lineart, using AI generated imagery for background elements, or adding AI voices to a human-created animation. AI Assisted also applies to images that originate as AI Generated, but have been extensively edited by a human by means such as heavy inpainting, manually painting over, tracing the artist's own lineart, and/or combining elements from different AI generated images; essentially, where hours of manual work have been put into creating the image, rather than just hitting "generate" until the AI creates something "good enough".
I uploaded an AI Generated image and can't find it?

Please check your current filter, as most default filters are set to hide AI Generated images.
---
For clarity, only the ai generated tag is hidden by the default filter, not ai assisted.