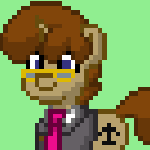 Fair Use (Optimisitc Neighsayer)
Excitedly Detached
I mostly work in traditional media. To me, working in traditional is a good break from the screen, especially since I'll spend eight hours a day in front of one for work, and I feel I have more control over exactly where my strokes go. (I don't have a tablet, yet even still there is something more relaxing doing art the old-fashioned way.)
Admittedly my technique is not very good. Still I enjoy drawing pony and sharing them with others.
That said, do you feel that there is a bias against traditional art in the fandom? Digital art seems to be easier to manipulate for most people, and often just comes out cleaner and more polished. (It may be the case that better artists in general just prefer to use digital now.)
If you take a look at the first three pages for images on Derpi tagged "digital art" and "traditional art" respectively,
digital art images seem to get more upvotes on average overall. Of course there's probably some bias here. Traditional art pieces are usually labelled as such, while not every digital art piece is (which may itself betray the idea that digital is "normal"), so those digital art pieces that are high quality enough to get more upvotes will also often get a "digital art" tag.
This thing just eats me sometimes so much I feel pressured to learn digital when I don't feel it's healthful.